Hats &
Tunics
The knitters of the Co-Operative knit by hand four different styles of caps. All our caps are made with the heavier weight yarn for added warmth. While these items are not made in village patterns, their designs are unique to each particular item. We are usually able to accommodate any head size.
Unalakleet Headband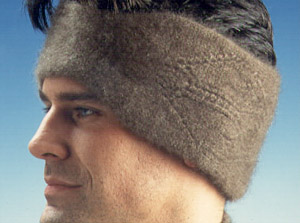 The Unalakleet headband depicting the Wolverine design is knitted in the 100% Qiviut by the members from Unalakleet. The Headband is shaped with a narrow part which can be worn in front or in the back depending on the wearers preference. Right now all we have in this head band are small and small-medium sizes. Orders for larger sizes will be filled as they become available. We cannot gaurantee larger sizes by Christmas.
Price:
$ 185.00

Checkout
Tunic, open on the side with a belt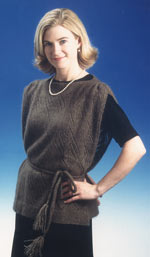 The Tunic, which comes in sizes from extra small to extra large is knitted by members from all of the villages. We recommend that, if you are unsure of the correct size, you provide us with a standard dress size.
Price:
$ 625.00

Checkout
We do not sell the fiber, patterns, or the yarn used by our members.
We have a limited quantity of BULKY QIVIUT yarn which we are making available in a Cap Kit.
» Shop Cap Kits